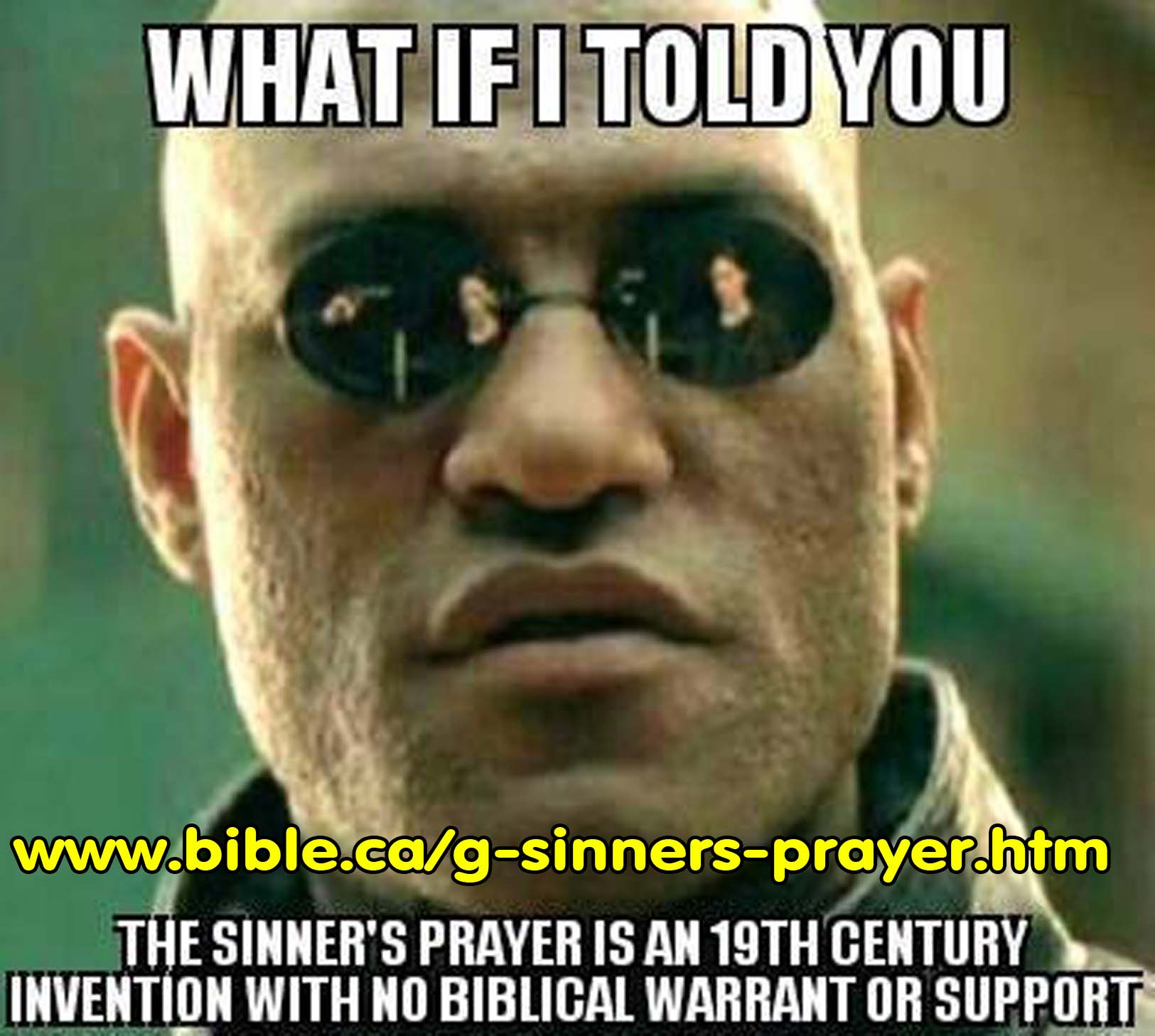 The earliest notion of sinners prayer is less than 500 years old. It wasn't formalized as a theology until around the time of Billy Graham.
No one in the Bible ever prayed for their initial salvation. They did however believe, repent, confess Jesus and be immersed in water for the forgiveness of their sins. The sinners prayer is a an innovation that thwarts God's plan of salvation.
1. First they replaced believers baptism by immersion with infant baptism by sprinkling.
2. Second they later replaced baptism altogether with the "sinners prayer" so that baptism is no longer even part of the plan of salvation. If you prayed the "sinners prayer" for your salvation, you are still lost in your sins, because it is not what God said to do.
C.S. Lewis used the term "a great cataract of nonsense" to describe how people use a modern idea to construe Bible theology. One such example, perhaps the best example, is a conversion method called the Sinner's Prayer. It is more popularly known as the Four Spiritual Laws.
Lewis used this term to describe what happens when someone looks backward at the Bible based only on what he or she has known. Instead, an evangelical should first discern conversion practices from Scriptures and then consider the topic in light of two thousand years of other thinkers. As it is, a novel technique popularized through recent revivals has replaced the biblically sound practice.
Today, hundreds of millions hold to a belief system and salvation practice that no one had ever held until relatively recently. The notion that one can pray Jesus into his or her heart and that baptism is merely an outward sign are actually late developments. The prayer itself dates to the Billy Sunday era; however, the basis for talking in prayer for salvation goes back a few hundred years.
Consider the following appeal:
"Just accept Christ into your heart through prayer and he'll receive you. It doesn't matter what church you belong to or if you ever do good works. You'll be born again at the moment you receive Christ. He's at the door knocking. You don't even have to change bad habits, just trust Christ as Savior. God loves you and forgives you unconditionally. Anyone out there can be saved if they ... Accept Christ, now! Let us pray for Christ to now come into your heart."
Sound familiar? This method of conversion has had far-reaching effects worldwide as many have claimed this as the basis for their salvation. Yet, what is the historical significance of this conversion? How did the process of rebirth, which Jesus spoke of in John 3, evolve into praying him into one's heart? I believe it was an error germinating shortly after the Reformation, which eventually caused great ruin and dismay in Christendom. By supplying a brief documentation of its short, historical development, I hope to show how this error has served as "a great cataract of nonsense".
The Reformation
Although things weren't ideal after the Reformation, for the first time in over a thousand years the general populace was reading the Scriptures. By the early 1600s, one hundred years after the Reformation was initiated, there were various branches of European Christendom that followed national lines.
For instance, Germans followed Martin Luther. There were also Calvinists (Presbyterian), the Church of England (Episcopalian), various branches of Anabaptists and, of course, the Roman church (Catholics). Most of these groups were trying to revive the waning faith of their already traditionalized denominations. However, a consensus had not been reached on issues like rebirth, baptism or salvation--even between Protestants.
The majority still held to the validity of infant baptism even though they disagreed on its significance. Preachers tended to minimize baptism because people hid their lack of commitment behind sayings like "I am a baptized Lutheran and that's that." The influence of the preachers eventually led to the popular notion that one was forgiven at infant baptism but not yet reborn.
Most Protestants were confused or ambivalent about the connection between rebirth and forgiveness.