The pastors are reportedly focusing on right-wing issues to sway next year's general and presidential elections
By Cho Yeon-hyun, Religion Correspondent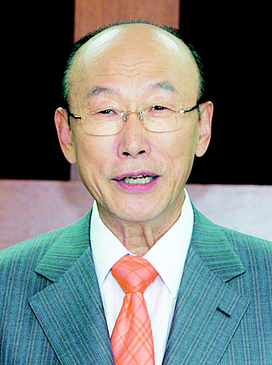 A right-wing Christian party is reportedly being formed ahead of next year's general and presidential elections with some of the country's leading megachurch pastors, including Yoido Full Gospel Church senior pastor David Yonggi Cho and Kumnan Methodist Church pastor Kim Hong-do. The anti-Communist, pro-U.S. Citizens' Campaign for Setting Right Church and Country, with Rev. Choe Byeong-du as chairman, plans to hold a Christian leaders' forum from Aug. 29 to 31 at the Yangsoori Training Center in Namyangju, Gyeonggi, where it is inviting leaders from some 3,000 churches. Following around 90 lecture meetings around the country, the organization recently held three Christian leader forums at the Seoul Walkerhill Hotel.
New Puritan Spiritual Training Center Director Rev. Jeon Gwang-hun, who spearheaded the forum effort, predicted that the event would serve as a preliminary meeting for the launch of a new Protestant Christian party.
"There is a growing consensus that the church needs to address the serious situation of social collapse, since it cannot be left to politicians alone to handle," Jeon said. "While the goal of this forum is the ten topic discussions, I expect it will ultimately lead to a debate over a Christian party."
Jeon said that he would put himself forward if veteran figures such as Cho and Kim undertake preliminary efforts on behalf of those seeking to establish a Christian party "in order to save a country that faces crisis due to leftist North Korea puppets and anti-Christian forces."
Cho's associates confirmed that he would be attending the event, while Kim's said they were unable to give a confirmation.
Jeon also said an official press conference would be held some time next week in connection with the party's establishment.
Jeon previously established a Christian party at the time of the 2008 general elections, earning 450 thousand votes and failing to win a National Assembly proportional representation seat by a margin of around 50 thousand. At recent gatherings, he has been calling for a new Christian party with a stronger commitment to eradication of "pro-North Korea leftists" and antagonism against other religions.
According to a publicity poster that was distributed for the forum by the organization and features the faces of Cho, Kim, and Rev. Kim Sam-hwan, the event will see the gathering of pastors from 3,000 leading churches in South Korea and feature discussions on ten topics. They include "the repudiation of country by pro-North Korea leftists and Communist unification," "the Korean sukuk law and abnormal propagation of Islam," "human rights issues in North Korea."
The topics also include laws regarding homosexuality, attacks on the church by Internet media, church corruption and secularization, the Korean Teachers' and Education Workers' Union (KTU, Jeon Gyo Jo), and distorted representations of Christianity in textbooks.