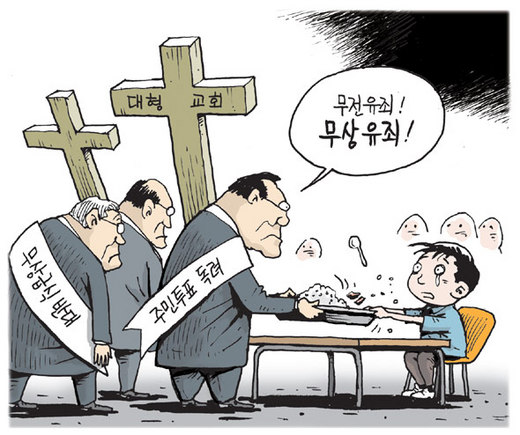 By Jang Bong-kun
Church leaders holding large crucifixes reading "megachurch" snatch a lunch tray from a child who is eating lunch at school desk, saying, "Being poor is a sin! Free meals are sinful!"
They wear sashes reading "No free lunches" and "Soliciting voter participation."
The Election Commission of Seoul on Friday embarked on an intensive clamp down on illegal campaigning by religious organizations calling on believers to vote in a referendum led by Seoul Mayor Oh Se-hoon to against free school lunches for elementary and middle school students. The commission, in particular, sent reportedly an official document to nine Protestant megachurches including President Lee's Somang Church, Kumnan Church, Kwanglim Church and Yoido Full Gospel Church. Conservative megachurch leaders have denounced liberals and progressives as "Reds."
The commission also plans to dispatch the control officers to large churches and temples.
The commission's measures came after the Seoul Chapter of ruling Grand National Party (GNP) discussed a plan to use religious aggregations for campaign in a breakfast meeting on Thursday where GNP Chairman Hong Joon-pyo, Lee Jong-koo GNP Seoul Chapter Chairman and Mayor Oh attended.
In addition, the commission reported Choi Jin-man, chairman of Kiturami Group and Taegu Broadcasting Company, to prosecutors for giving employees of the group directives to vote in the referendum.